Humans of eMan: Vojtěch Zicha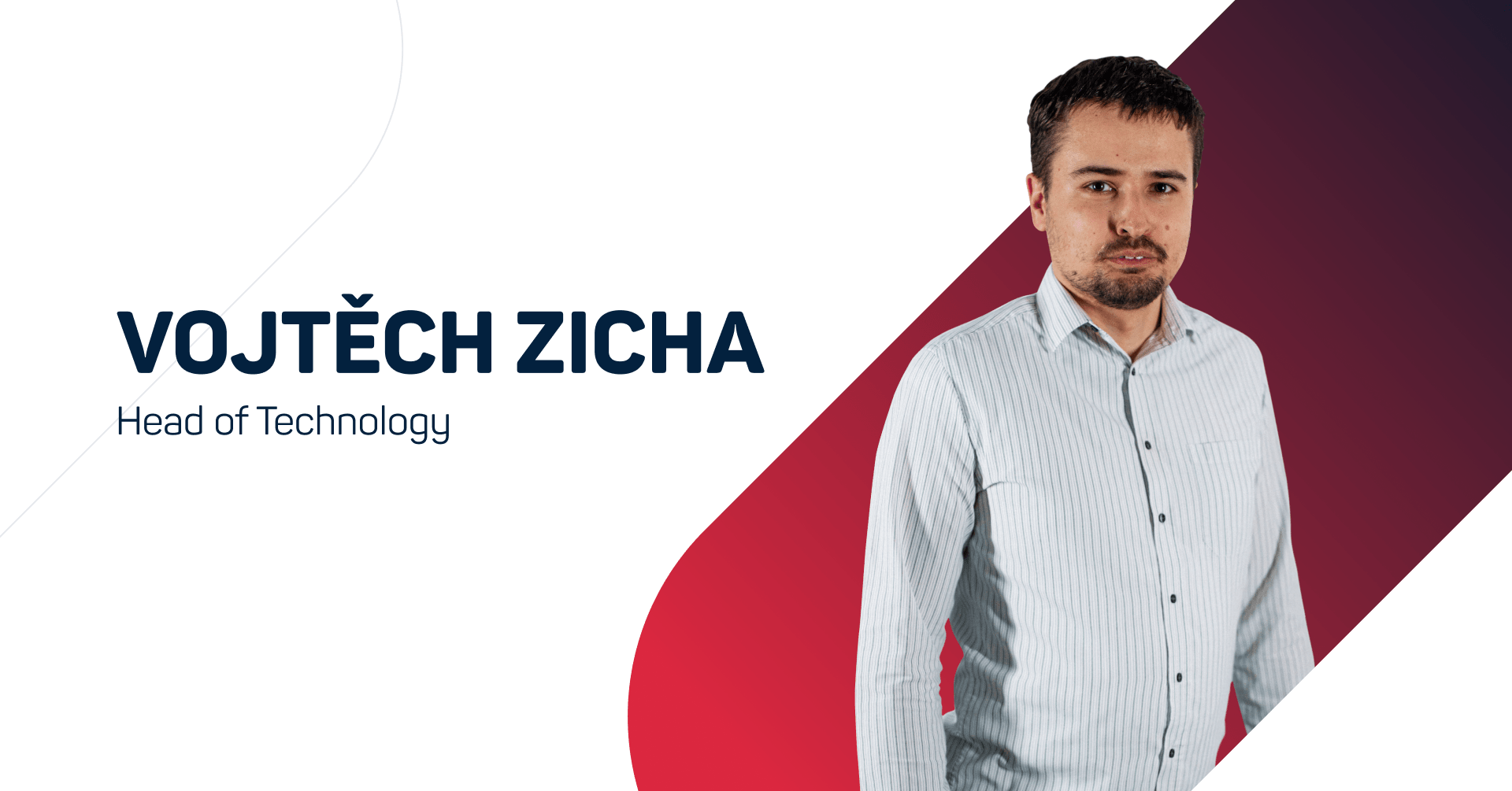 He draws, sketches, connects, builds foundations, and constructs floor upon floor. Introducing Vojtěch, architect. Our project architect.
If you contact us saying that you need an application from the fields of automotive or Industry 4.0, at the initial meeting you will meet Vojta. He will listen to you and do his best to understand your wishes and desires. And together with you, he will draw up an offer in a way that makes sense.
As head of the technology team, he has the architecture of all eMan projects under his thumb. "I also try to push us to innovate and find more and more ways to improve and develop. This is the only way we can offer our customers the very best services. We deal a lot with artificial intelligence and machine learning, but we try to make it more than just a buzzword – we look for real use in concrete cases, how to bring a real advantage, improvement, or savings to customers," he explains.
It is not surprising that he spent his childhood playing computer games, but thanks to a visit to the health spa, he took it to the next level. "I used to be quite sickly and had to go regularly to the spa. One day they started a computer club, so I signed up and imagined how cool I was going to be with my knowledge and experience. But there was a boy who not only knew how to turn a computer on and off, he was programming his own game levels! It annoyed me that he could do that and I couldn't, so I resolved to learn how to do it. I was hooked, and programming became my main hobby," he recalls with a laugh.
He's been working on models for artificial intelligence since high school – he was able to ascertain, for example, whether a physics professor would be giving an exam on a given day. For a while he studied computational mathematics at university, but he wanted to get his hands dirty, and before taking the final exams, he left his native Ostrava for Prague. He worked as a programmer and a database and CRM analyst, but realized that he enjoyed inventing these systems much more than analyzing them. He found that people in the business reacted positively to him; they listened to him. And that he had a knack for understanding what the client wanted, precisely formulating the content of the order, and then meaningfully explaining to the programmers what they actually had to program. That's how Vojta naturally began to turn into an architect.
Vojta came to eMan in 2018 after four years of work experience, fatigued and burned out from the fact that, instead of getting work done at the office, more time was spent arguing, and mistrust among colleagues was the order of the day. "I didn't take that very well. I have always been loyal to the client, dealing with IT suppliers and matters. It was killing me and I needed to get out. At that moment, Michal Czinner appeared and beckoned: come work with us, designing for customers. We understood each other, and I said "if there are people at eMan who are willing to listen to me, I'd like to try it."
In his own words, he found an environment full of trust at eMan, where people have the room to work according to their own wishes, and then take responsibility for the consequences. "I enjoy investigating new issues and areas I don't understand, getting to know people, establishing relationships and, after a while, being able to suggest 'this and that are the best things we can do for you. To find the ideal solution for the client, and then be their partner. And I have to establish confidence not only with the customer, but also with my own people, to whom I have to explain what I want from them and why," expounded Vojtěch, who leads two other architects at eMan (and looking for a third).
Together with his team, he is proud, among other things, of their work for the Škoda auto manufacturer, where they developed new versions of the Škoda Connect mobile app for owners of new and older cars. What does he value about his work? "That I'm constantly discovering new things. It's not monotonous work, where the same things get developed over and over again. On the contrary, one day we're approached by a robot manufacturer and the next time it's a truck maker. Sure, I only do the IT parts, but I'm exposed to a lot of new areas and meet people I wouldn't have met otherwise. That's why I want to work here for a long time. I know that in the coming months and years, there will be new orders, projects, and people with whom I would not have otherwise come into contact," expounded the guy who likes to unwind by wandering around a mountain or going for a random train ride. Just because – on a whim – even that can be an interesting adventure.